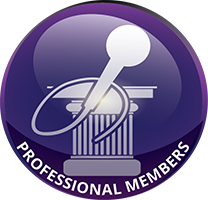 Speakers' Academy Reg - For NSACF Member and National NSA Established/Professional Members - Fall Session
SKU SA2016m_01
Product Details
Fall Session
Speakers' Academy Registration
For those who have paid NSACF chapter membership and National NSA Established / Professional Members, see Below for EARLY BIRD Discount Code!

10 Speakers' Academy sessions, plus 10 regular Chapter meetings are included in this registration.

You have two payment options.
Single Payment of $995.00
3 Payment Option (Fall Academy Payments are accepted after July 1.)
First payment of 465.00 due upon registration
Second payment of $265 due one month after registration
Third payment of $265 due one month after the second payment.
Early Bird Special!
Make your first payment before August 7 and Save $100 off the cost of your academy investment.

To take advantage of the Early Bird Special please enter the coupon code below:
EARLYBIRD
* Speakers Academy students shall not be entitled to any refund of dues or other fees once the course has begun.
Save this product for later